Who Needs the Internet Middlemen?
By Mike Barnett
CEO, Property Panorama
The migration of residential real estate onto the Internet has changed the way consumers buy and sell houses for the better..., in most ways.
Dressed in their pajamas, buyers can surf websites and look at dozens of properties within a few hours. Sellers reach millions of prospective buyers around the world. Consumers begin to learn that homes sell faster. Technology has also transformed the business of real estate: agents can manage greater volumes of listings and prospects and brokerages have digital tools that make them incredibly more efficient.
Beyond the bells and whistles of 21st Century real estate marketing, there's a different reality. Sites like Zillow and realtor.com, syndicators like ListHub and other emerging models are advertising media that makes millions from the real estate professionals, many of whom create and amass the content (listings) that attract consumers to their sites in the first instance.
Instead of breaking down barriers between real estate consumers and property listings, these new middlemen are creating an additional layer. Listing agents, who are the original sources of information for every home, are further from buyers than they were 25 years ago.
The result is more inaccuracies, missing or outdated information, and confusion that can cost sales. Some national sites have thousands of more listings than others [1]. Consumers complain that errors on listings linger for days or longer [2]. The big, national sites may be significantly less accurate than local brokers' sites [3]. For agents and brokers, bad data leads to lost sales [4].
Most Consumers are Clueless to this Additional Layer
Take a look at how consumers use the Internet to find a home. The other day, I opened my Chrome browser and typed "Real Estate Avon Ohio." At the top of each search page was a list of paid advertisers (with the word 'Ad' added to the search result), and then the big national aggregators.
What I didn't see was a structured layout like the results I get when searching for air flights, or hotels. I was hoping I would see a similar design taking me to Avon's neighborhoods or a place to enter some variables like the number of rooms, bedrooms, baths, or price.
I noticed a link, within one of the search results I did receive, to an address in a subdivision that I was considering. I noticed that the listing agent was holding an open house that day.
I clicked on the link, and instead of taking me to the listing agent, it took me to a realtor.com web page for the property.
I read all about the property, and then clicked on the link requesting more information.
Within 30 seconds, I received two text messages. One was from a real estate brokerage and the other from an agent (that I assumed was with the same brokerage). Then within 60 seconds, the phone rang. It was from an agent who had texted me.
He introduced himself, and he seemed like a nice man. I asked him for more information on the property, and he started reading the same information that was in the realtor.com listing, which I had already read on realtor.com. I asked if he had seen the inside of the house, and he said no, but then started reading what he and I were already seeing as the descriptions on the photos.
I asked him if he was familiar with the subdivision where the house was situated? He said no.
I asked if he had ever sold a house in that subdivision, and he said no. It became clear to me that I was speaking with someone who had never stepped foot in the house and knew nothing about the neighborhood.
I asked if he was the listing agent. He said no.
I asked if he would put me in touch with the listing agent. He told me that I didn't need to talk to him, since whatever I told the listing agent would be relayed to the seller of the house, as that was his job.
What my caller didn't know was that the listing agent wasn't a 'him,' it was a 'her' ─ my girlfriend, Hope Marsh. Hope was sitting on our love seat during the entire process, including the call.
Like all listing agents, Hope had done the heavy lifting. She examined the property thoroughly, measured the house and its various rooms. She researched the tax records and all ownership and valuation data. Hope took all the photos, added photo labels, room sizes, and created a basic marketing description. She then logged onto her MLS and uploaded all the listing information. It is a time intensive process. And, within a few hours, of all that work and manual labor, the listing appeared on realtor.com…, directing people who want to know more about the property to those who, in many instances, don't have a clue!!!
Realtor.com wanted thousands of dollars from Hope to direct those leads generated by her own hard work to come directly to her.
Every day, the Internet intermediaries are not only making errors in the listing data, but they are also sending consumers to agents who pay them for the leads, not the agents who can answer their questions intelligently.
The Solution is Structured Data
Wouldn't it be nice if the consumer could search for properties right from their browser…, and not have to be bombarded by middlemen, aggregators, and portals whose primary focus is to sell advertising to the very people who provide them their only asset for free?
A new Internet technology called Structured Data is doing just that. Simply stated, Structured data is a predetermined set 'types' (categories), which gets broken down into 'properties' and then further to 'enumeration values' used to describe them.
Whether it is travel, food, clothing, or any other service or product popular online, it is Structured Data that takes consumers straight to what they are shopping for on the Internet, not middlemen or advertisers creating a layer between them and the consumer.
Except for the large portals, this is not the case in the real estate industry. At least, not yet.
Imagine Microsoft and Google getting together in the same room (and it isn't a courtroom!). In 2015, Microsoft, Google, Yahoo, and other major search engines got together to decide how to sort through all the websites, which at that time was over 1 billion, and quickly return the most relevant data possible in a format that is easy for consumers to use. They created Schema.org, which is a collaborative community with a mission to "create, maintain, and promote 'schemas' for 'structured data' on the Internet."
Structured data is simply data in web pages that is well-organized and doesn't require additional effort to determine its meaning. When information is well structured and represented in a standardized manner, search engines can more easily organize and display the information in useful and creative ways.
Also, the incorporation of structured data into real estate web content can help increase its search result ranking, making it easier for real estate consumers to access information about MLSs, brokerages, agents, and their property listings. Though still in its infancy, the creative use of structured data in real estate promises to become an important new marketing tool to reach consumers directly with rich, current information about real estate properties.
Snippets and Knowledge Panels
Two ways Google uses Structured Data is in "snippets" and Knowledge Panels that appear on search pages in response to searches.
"Snippets" are text that appears under a search result on a major search engine like Google. Snippets provide consumers with information about what is within the link delivered on the search engine results page to help searchers decide whether to click through to the webpage. Four years ago, Google reported real estate sites increased visitors using "tabular" snippets that include brief information on open houses and listings like the example below.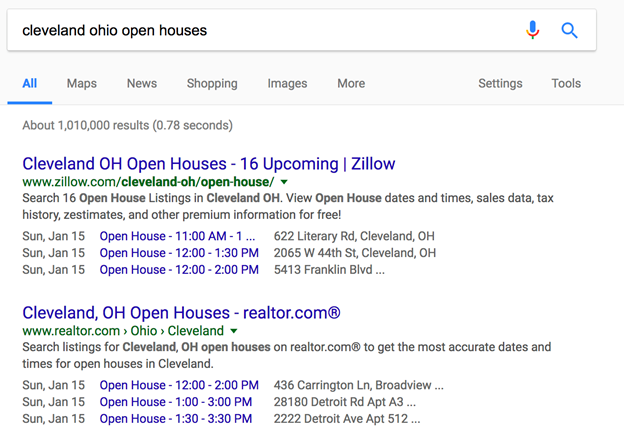 Structured real estate information can be further incorporated into Knowledge Panels that appear on Google search result pages, providing more detailed information, including graphics, maps, and photos. Below is current Google search result showing structured data for an Ohio agent, Ms. Hope Marsh.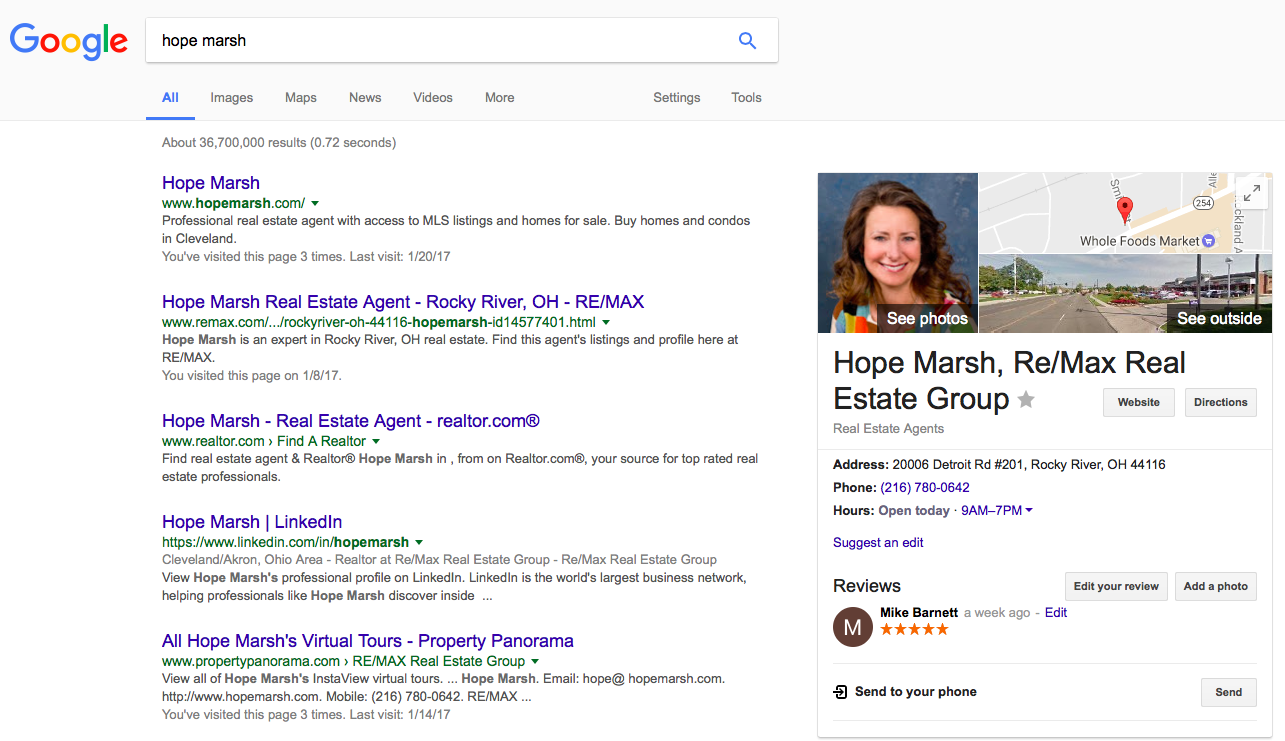 Virtual Tours, SEO, and Structured Data
Property Panorama is a digital marketing and SEO company that automatically creates and distribute virtual tours and other marketing tools that make it easier for buyers to find properties and agents on the Internet. Property Panorama has over 550,000 active agent accounts, and its platform, InstaView, delivers the marketing content to consumers to more than 350,000,000 visitors (more than a third of a billion visitors) this year.
Property Panorama is pioneering the use of structured data in real estate. The incorporation of structured data into real estate web content will help increase agents' search result ranking, making it easier for real estate consumers to access information about MLSs, brokerages, agents, and their property listings.
We have been working with the Real Estate Standards Organization (RESO) and Schema.org to accelerate the approval of real estate terminology as structured data. For the past few months, Property Panorama has been including structured data as part of the code underlying InstaView for MLSs, Brokerages, and agents. Within the next 60 days, Structured Data will begin to appear in the listings carried by the 171 multiple listing services we reach, making it easier for consumers to find relevant, current, and accurate listing data directly, without going through a middleman.
Free Profiles for Every Agent
Now Property Panorama is in the process of providing agents with the tools they need to create their Agent Profiles..., for free!!! Property Panorama is using Structured Data within InstaView with the goal of delivering this powerful search result to every real estate professional within our system. As search engines, like Google, expand their knowledge graphs to include structured real estate data, the search result pages will inevitably begin to improve the consumer's experience, showing them more dynamic information that is relative to their search criteria. It will be both interoperable and in sync with the real estate information systems that are stewards of the data.
Agent Profile pages display portraits, contact information, as well as information about each agent's office. When an agent enters a listing into the MLS, it will be automatically pulled into our system and displayed on the Agent Profile page.
Below is an example of a Property Panorama Agent Profile page.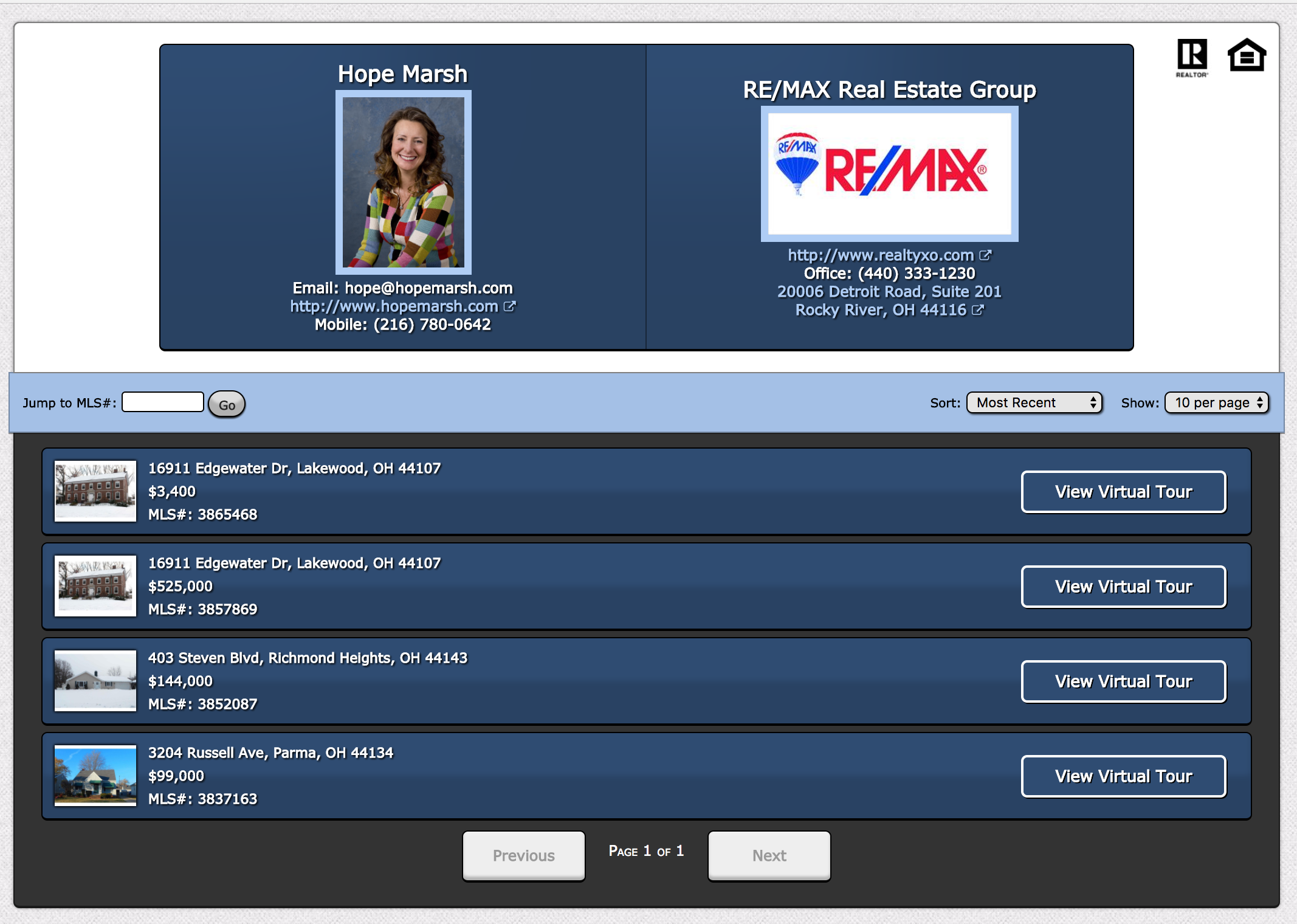 Within a matter of 18 to 24 months, we expect that adoption of structured data by residential real estate will reach the point where tens of thousands of agents have InstaView Agent Profiles and InstaView Brokerage profiles on Google.
Soon the day will come when consumers will use browsers, not aggregators, to search for listings and open houses. Widespread adoption of structured data will put consumers directly in touch with properties they want to buy and the agents that represent them, with no additional layers, no middlemen, no confusion, and no more hidden advertising costs that help to inflate the prices consumers pay to buy and sell homes.
Property Panorama is putting the power of structured data in the hands of hundreds of thousands of agents who have access to the InstaView platform. With free InstaView Agent Profiles, agents can promote listings, open houses, as well as information on their services directly to buyers and sellers in local communities. Buyers accessing information directly from the agents who represent the properties in which they are interested will get the latest, most accurate information available.
Accuracy, timeliness, accessibility. That's the promise of the Digital Age, and now the evolution of structured data is making the promise a reality.
	[1] Romem, I. (2015, October 5). The Zillow And Realtor Listing War.
	https://www.buildzoom.com/blog/zillow-realtor-listing-war
	
	[2] Consumer Complaints and Reviews. (2017, June 12).
	https://www.consumeraffairs.com/homeowners/zillowcom.html
	
	[3] Davis, C. Davis, N.  (2013, January 30). Trulia, Zillow less accurate than
		Realtors.
	http://activerain.com/blogsview/3467292/trulia--zillow-less-accurate-than-realtors
	
	[4] Thorsen, F.L.  (2011, December 11). Is Real Estate Datagate Bringing Tears
		To Rupert Murdoch's Eyes Yet?
	http://activerain.com/blogsview/4797770/is-real-estate-datagate-bringing-tears-to-rupert-murdoch-s-eyes-yet-